Maldives under INR 45,000/- (Including airfare!)

Take an international trip for 4D 3N to the pristine beaches of a local island of Maldives
I Want To Know More
Book Now! Only 6 Seats Left!
ON GROUND TRAVEL ASSISTANCE
End to end facilitated budget trip
International trip
Maldivian local experience
On ground Travel Assistance
Visa on Arrival
Sunset with Dolphins
Fun filled & action packed and yet relaxing
Visit to uninhabited island with Sand bank
Ex Bangalore
No interim travel agents
Snorkel into live reefs with Rays, Sharks, turtles and 100s of other fish
Pristine White Sand Beaches & Crystal Clear Blue waters
DAY 1 :

ARRIVAL AT MALDIVES AND TRANSFER TO ISLAND

Arrive at Male International Airport by 2PM. Upon your arrival in Maldives, you will be received by our representative. Enjoy being warmly welcomed. Grab quick lunch and head to the ferry terminal.
Soak in the beautiful vistas of Maldives. The ferry terminal offers one of the best views of Maldives. Start making your memories at the beautifully designed wooden jetty amidst the turquoise blue waters.
Get transferred to island via speedboat. Enjoy the speedy 1hour 10 min ski on the sea. Complete all check-in formalities at the local guest house, and unwind in your room. Spend the rest of the day at leisure. Take a stroll along the streets or along the bikini beach in the evening sun.
Post dinner, retire for the night. Experience the peace and calm of an island night.
DAY 2 :
Picnic Island & Sandbank tour with Snorkelling with Fish Feeding
Wake up at leisure for a scrumptious authentic Maldivian breakfast.
Brace yourself for a fun filled afternoon and head out to an uninhabited island post lunch. If you are lucky, you can even spot turtles on the way!
Spend your time at the picnic island and beautiful sandbank.
Put on your snorkeling gear and get ready to get up close and personal with 100s of different types of fish at the nearby lagoon with a shallow reef. You can even opt to feed them.
You will have plenty of help with snorkeling. Life jackets will be provided as well.
Arrive at your hotel. Post dinner, retire for the night. Prepare fro an early morning.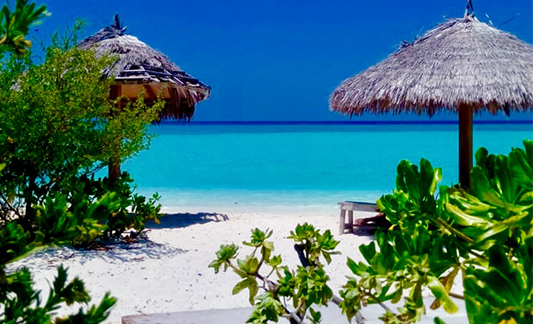 DAY 3 :
3-point Snorkelling & Sunset with Dolphins
Now that you have had your first taste of snorkeling at Maldives, we are sure you want more and therefore we head out to snorkel at 3 different points around the island, by 9AM post breakfast.
Along with live corals and huge variety of fish, you can expect to spot turtles, rays and sharks.
Head back to the hotel or spend your time at leisure at the bikini beach. Lunch will be provided at the hotel.
By 5 PM head back out to the sea again for a cruise where dolphins play between Rasdhoo and Thoddoo. They're swimming close to the boat, you can even pat them.. Enjoy a sunset with dolphins!
Arrive at Rasdhoo and have a last look around the island and also finish your souvenir shopping as this is will be your last evening in Rasdhoo.
Post dinner, retire for the night. Prepare fro an early morning.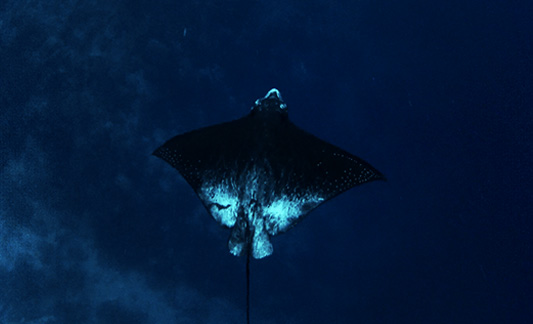 DAY 4 :
Rasdhoo to Airport
After an early breakfast, head to the jetty for the 7:30 AM Jetty to Male.
Arrive at the Airport by 8:45 AM and proceed to the Airport and board your flight back to India with wonderful memories of Maldives.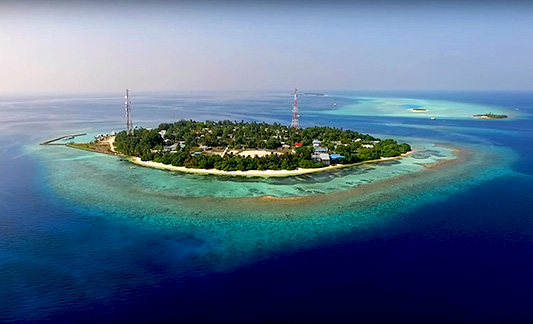 Price :

Rs. 44499/- Per person on twin sharing

Dates :

August 22- August 25

Low on budget & time and yet yearn to undertake an international holiday ? Then this is the perfect package for you ! Get ready to fly international with no Visa hassles. If you are still unsure, our travel assiatnt will accomapy you througout to ensure your end-to-end comfort.
Get ready to mesmerised by the clear blue waters and the white sand beaches. Let the sea unwind you with its magical aura. Indulge in the lovely local island experience with streets lined with brightly painted shops, cafes and coral-walls. Rasdhoo is located in Alif Alif Atoll and is about 500 m in length and approximately 600 m iwide. The population is around 1500 people and is devoid of 4 wheelers! . A walk around this tiny island of Rasdhoo, in your leisure time will have something astounding to unveil everyday that you would not want to miss out on. Relax in the budget yet luxurious guest houses. Buy exotic souvenirs or head to the post office and send out postcards to inducewee bit of jealousy among your friends!
Our activities have been designed to let you cherish every offering that this picturesque island has to extend to its visitors. A trip to the sandbanks and snorkeling at various marine hotspots will only add up delight to the tour. The island rose to fame as the best location in the Maldives for encounters with hammerhead sharks and for spectacular experiences with stunning reef, several other types of sharks, eagle rays manta rays, sting rays, sea turtles and schooling fish. Explore deep reef walls and dramatic underwater scenery. End your evening by watching the dolphins frolic into the sunset.
So bring out the bathing suits, sunglasses, some sun-tan lotion and hit the 'Book Now' button and we will take care of the rest for you.
Return Flights Ex Bangalore

Airport Transfers by speedboat

3N Stay is a local guest house

All meals for the period of stay

On ground travel assistance

3 water activities
Additional activities

Any item of personal nature like tips, laundry, telephone calls and other personal expenses

5% GST

Expenses caused by factors beyond our control like storms, ferry cancellations, political disturbances, etc.
I Want To Know More
50% of the total tour cost must be paid as booking amount
Remaining 50% must be paid prior to departure
Cancellation received no. of
days prior to departure
% of Cancellation on Net
Tour Price (per person)
The above price is valid till August 11 only. Post which the surcharge in flight rates will be charged at actual.
The packages are designed ex Bangalore for a simple reason that this is a budget tour and the flights from Bangalore are not just low fare, they are also perfectly aligned with the ferry transfer, which is the fastest way to travel under budget. But if you'd like us to arrange your flights from other cities, we could do that as well, with additional charges.
There is no refund for any services not utilized during the tour.
I Want To Know More
What currency can we use in Maldives ?
Although the official currency in Maldivian Rufiyaa (1 MVR is equivalent to appx 4.5 INR), USD is widely accepted. You can carry USD.
Is the speed boat safe for people with motion sickness?
It is a 70 min ride and it does get bumpy at times. We would recommend that you pop an anti-nausea pill just to be on the safer side. The boat is well equipped with plastic bags, water, orange candy to help people.
What are the other activities that can be undertaken at Rasdhoo ?
Apart from the package, you can undertake several other water activities like experiential diving, night snorkeling, catamaran sailing, kite surfing, fishing etc.
What should one buy as souvenirs at Rasdhoo ?
Magnets, pictures and postcards, colorful sharongs, handicrafts, wooden articles, bowls made of coconut with mother of pearl inlaid work, mother of pearl utensils etc.